New tournament Northern Ireland Trophy
O'Sullivan Quickly Takes His Leave
A sloppy Ronnie O'Sullivan lost 4-2 to Joe Swail in the Northern Ireland Trophy after being "90% certain" he wasn't going to attend.
By Guardian Newspapers, 8/19/2005
Ronnie O'Sullivan, who had said he was "90% certain" not to play this season after losing in the world championship quarter-finals, turned up for the Northern Ireland Trophy but was quickly on the way home from the Waterfront Hall last night.
O'Sullivan, the world No1, made a series of unforced errors in losing 4-2 to the Belfast-born Joe Swail, who finished off the match with breaks of 138 and 91.
"I didn't really play but I'll keep turning up and see what happens," said O'Sullivan, who won five titles last season. "I wouldn't say my heart isn't in it but there aren't many tournaments this season and it's difficult for me to get up for it."
Jimmy White, starting his 26th season as a professional, was beaten 4-2 by Neil Robertson, an Australian left-hander who had not been born when in 1981 the Londoner won the last major tournament staged here.
Robertson, 23, had not had the best preparation after falling victim to a random assault in a Romford nightclub this month which prevented him practising for five days.
"I was having a nice night out with a few friends and this guy just came up and hit me in the head for no reason," said Robertson, the world No28 and a wild card. "I woke up the next morning with a massive bruise, turned on the television and watched Australia lose by two runs at Edgbaston. It wasn't the happiest 12 hours of my life."
Mark Allen, 19, a wild card from Antrim who humbled Steve Davis 4-0 on Wednesday, claimed another top scalp in defeating John Higgins, the 1998 world champion, 4-1.
Stephen Maguire, the world No3, edged out Mark Williams 4-3, Stephen Hendry defeated Ding Jun Hui, the 18-year-old China Open champion, 4-2 and Matthew Stevens had a 4-1 win over Ken Doherty.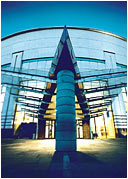 BELFAST TO STAGE NORTHERN IRELAND TROPHY
World Snooker will make sporting history next month by staging a major snooker tournament in Northern Ireland for the first time.
05 Jul 2005
Supported by Belfast City Council and Northern Ireland Events Company, The Northern Ireland Trophy, a brand new invitational event to be contested by 20 of the world's leading players, will take place at the Waterfront Hall in Belfast from August 17 to 21.
Thanks to World Snooker's partnership with Eurosport, which has propelled the growth in the popularity of the sport on the continent, live action from the tournament will be beamed to 95 million homes in 51 different territories.
A spokesman for World Snooker said: "Northern Ireland has a rich tradition of support for snooker and has also produced many outstanding players over the years - from Alex Higgins to the current world amateur champion Mark Allen.
"We are delighted to be staging a major tournament there for the first time as part of our ongoing mission to bring world class snooker to new territories. We are sure that the snooker fans in Belfast are looking forward to seeing the world's best players in action."
Welcoming the announcement, the Lord Mayor of Belfast, Councillor Wallace Browne, said: "Belfast City Council is delighted to be associated with this exciting new tournament, and we look forward to welcoming some of the most well known names in the world of snooker to our city next month. I have no doubt that the event will be extremely successful, and look forward to it becoming an annual fixture on our sporting calendar."
Chairman of the Northern Ireland Events Company, Mervyn Elder, added: "We are delighted that World Snooker has agreed to bring this tournament to Northern Ireland. As well as tremendous world-wide media coverage it will give spectators the opportunity to see the top players in the superb surroundings of our own Waterfront Hall."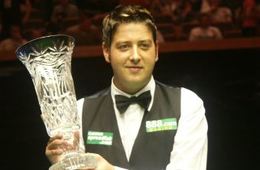 SWAIL COULD FACE O'SULLIVAN CLASH
Home favourite Joe Swail will meet world No 1 Ronnie O'Sullivan if he wins his opening match in the Northern Ireland Trophy next month.
20 Jul 2005
Belfast's two-times World Championship semi-finalist Swail must first beat Joe Perry to earn a tie against the Rocket at the Waterfront Hall.
The brand new tournament, supported by the Northern Ireland Events Company and Belfast City Council, gets underway on Wednesday, August 17 at 1pm. First up is Mark Allen, the 19-year-old world amateur champion from Antrim and one of Northern Ireland's hottest ever snooker prospects.
Allen is making his debut on the premier circuit and faces a baptism of fire against legend Steve Davis. On the adjacent table, outstanding young Australian Neil Robertson plays Crucible semi-finalist Ian McCulloch.
Following these matches, Swail takes on Perry while England's Ali Carter is up against Oriental prodigy Ding Junhui, the China Open champion.
At 7pm, the new world champion Shaun Murphy takes to the baize for the first time since his remarkable triumph at Sheffield in May. He plays Glasgow's Graeme Dott.
There are more exceptional matches in prospect on Thursday, August 18. At 1pm, Whirlwind Jimmy White plays either McCulloch or Robertson, while world runner-up Matthew Stevens takes on Irish star Ken Doherty.
Two-times world champion Mark Williams then faces Travis Perkins UK Champion Stephen Maguire. At 7pm, Stephen Hendry is up against Carter or Ding.
Tickets for the event, which start at £7 (concessions £5), are now on sale. To book your seats, call the box office on 02890 334455. Further event and ticketing information is available on line at www.waterfront.co.uk
Draw:
1. Neil Robertson/Ian McCulloch - 4-0
2. Ali Carter/Ding Junhui - 0-4
3. Steve Davis/Mark Allen - 0-4
4. Joe Perry/Joe Swail - 1-4
5. Shaun Murphy/Graeme Dott - 4-2
6. Jimmy White/Neil Robertson - 2-4
7. Ken Doherty/Matthew Stevens - 1-4
8. Stephen Maquire/Mark Williams - 4-3
9. Stephen Hendry/Ding Jungui - 4-2
10. John Higgins/Mark Allen - 1-4
11. Peter Ebdon/Alan McManus - 0-4
12. Ronnie O'Sullivan/Joe Swail - 2-4
QF 1 Shaun Murphy vs. Neil Robertson - 4-5
QF 2 Matthew Stevens vs. Stephen Maquire - 5-2
QF 3 Stephen Hendry vs. Mark Allen - 5-1
QF 4 Alan McManus vs. Joe Swail - 5-1
SF 1 Neil Robertson vs. Matthew Stevens - 4-6
SF 2 Stephen Hendry vs. Alan McManus - 6-3
Final - Matthew Stevens vs. Stephen Hendry - 9-7
Format:
Wednesday, 17 August
1pm
3 1
4 2
7pm
5 11
Thursday, 18 August
1pm
6 7
10 8
7pm
12 9
Friday, 19 August
1pm
QF1 QF2
7pm
QF3 QF4
Saturday, 20 August
1pm
SF1
7pm
SF2
Sunday, 21 August
2pm
Final (8 frames)
8pm
Final (up to 9 frames)
LOCAL TIMES
All matches up to the quarter-finals will be best of 7 frames, QFs best of 9 frames, Semi Finals will be best of 11 frames and the Final will be best of 17 frames(8/9).
Matches on Wednesday, 17 and Thursday, 18 August 2005 will be played on a roll on/roll off basis. Play will start at the allocated time each day with a 15 minute interval between matches.
Table numbers for all matches up to and including the quarter-finals will be determined the day before and published by the tournament director.
TV broadcasts on Eurosport
17.8.
14,30 - 17,00 - live from Belfast
18.8.
8,30 - 10,00 - replay
14,00 - 17,00 - live
20,00 - 23,00 - live (this one will be hugely interesting for us - but unfortunately there was no good result for Ronnie and us)
19.8.
10,30 - 11,30 - replay
14,00 - 17,00 - live
20,30 - 23,00 - live
20.8.
11,00 - 12,30 - replay
12,30 - 14,00 - replay (Eurosport 2)
14,45 - 17,00 - live
20,30 - 23,00 - live
21.8.
11,30 - 13,00 - replay
15,00 - 16,00 - live final
16,00 - 17,00 - live final (Eurosport 2)
17,00 - 18,00 - live final
21,00 - 22,00 - live final (Eurosport 2)
22,00 - 00,00 - live final
22.8.
14,00 - 16,00 - replay of final
20,00 - 21,00 - replay of final (Eurosport 2)
23.8.
10,30 - 12,00 - replay of final
16,15 - 18,15 - replay of final
The highest breaks of tournament
140 Alan McManus
138 Joe Swail
134 Shaun Murphy
133 Shaun Murphy
126 Stephen Hendry
107 Ding Junhui
107 Stephen Hendry
105 Matthew Stevens
100 Matthew Stevens