Jan Verhaas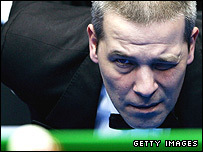 Ptejte se rozhodčího
www.bbc.co.uk

Vypátrali jsme během Masters holandského rozhodčího Jana Verhaase a dali jsme mu několik otázek, které jste poslali na stránky 606.
Ot. Pamatuji si, že jsem viděl událost, kdy hráč musel hrát s hrabičkami. Poté co potopil, nechal hrabičky na stole, aby je uklidil rozhodčí, i když koule byly stále v pohybu a jedna se blížila přímo k hrabičkám.
Rozhodčí musel rychle zvednout hrabičky, aby se vyhnul tomu, že by koule do nich narazila. Měl to udělat nebo měl nechat kouli do nich narazit a ohlásit faul?
Meazza
Od. Myslím, že měl nechat hrabičky ležet kde byly. Jestliže je evidentní, že koule jde k hrabičkám, je to hráčova zodpovědnost.
Spousta hráčů v současné době nechává hrabičky na stole, aby je uklidil rozhodčí, ale obvykle když jsou si naprosto jistí, že do nich koule nenarazí.
Ot. Jaký máte pocit z pravidla "miss"? Některé z interpretací rozhodčích jsou podle mě nefér.
Rozumím tomu, proč bylo zavedeno když jsou červené rozstřelené a je snadné je zasáhnout, ale jestliže je na stole už jen jedna koule k zasažení, je těžké to trefit, nemá být určitě hlášen "miss", jestliže byl zahrán opravdový pokus.
SteveMarkWilliams
Od. Jestliže byl zahrán skutečný pokus o zasažení, pak je skutečné fér nehlásit "miss". Na červené může být situace, kdy si vybere určitý strk, i když existuje jednodušší varianta.
Například může jít raději přes 2 mantinely, než přes 4. Jestliže to zkusí těžší variantou, pak musí zasáhnout. Ale jestliže má jen jednu možnost, pak by neměl být penalizován.
Ot. Existuje pro rozhodčí nějaká stupnice jako třeba ve fotbale?
BigStevie5
Od. Stupnice je na amatérském okruhu, ale na profesionálním je to jinak. Profesionální rozhodčí posuzujeme já a Eirian Williams - pak rozhodneme.
Jestliže je amatérský rozhodčí připraven na další stupeň, je na nás, jestli mu/jí dát zelenou nebo ne.
Ot. Jestliže hráč potřebuje velký počet snookerů, aby vyhrál, může ho rozhodčí přimět vzdát?
Kriss_boy
Od. Stručně řečeno, ne. Vzdání je jen na hráči, i když někdy chceme, aby to vzdal.
Ot. Máte někdy tendenci zaúpět zklamáním při nepodařeném těžkém strku?
Ronniranu
Od. Nemůžete úpět, nebo se o to aspoň musíte snažit. Když se hráči přihodí nepříjemné kopnutí v důležitém okamžiku, je tendence se zvukově projevit.
Ot. Kdo si myslíte, že je vůbec největší snookerový hráč?
Supermuadh
A. Musíte říci Stephen Hendry. Vyhrál sedm světových titulů, nahrál obrovské množství stovek a v 90. letech byl Pan Pevný. Ronnie O'Sullivan je nejtalentovanější, ale Hendry je nejlepší.
Q. Proč nosíte rukavičky?
Jackforlife
A. Nosíme normální bavlněné rukavice, abychom udrželi koule čisté od mastnoty. Věřte mi, pod těmi horkými světly se potíte.