Ronnie - racer
MIXED FORTUNES FOR 'ROCKET' RONNIE
World snooker champion Ronnie O'Sullivan experienced all the highs and lows of his chosen new sport at Silverstone, but thoroughly enjoyed his maiden race outings at the wheel of number 147, the Addison Lee-backed Jetta.
Ronnie qualified at the back of the grid for Saturday's race and made an early exit from the running when he spun the Jetta into a gravel trap. "It was a novice mistake," said O'Sullivan. "I just sort of splattered off the track."
Right on cue and with a valuable lesson put away, Ronnie gave a more than respectable showing on Sunday to finish 14th. After a cautious start from the tail-end of the grid he gained pace and overtook one of his rivals before the end. "At least I got a whole race in," he said. "It was a good experience, I enjoyed it very much and now I am looking forward to having another crack at Brands Hatch next month."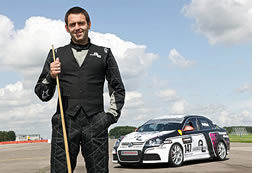 Ronnie Turb-O'Sullivan
www.global-snooker.com
The Rocket, Ronnie O'Sullivan will be faster than ever this weekend when he swaps his cue for a 130mph racing saloon at Silverstone.
Ronnie, more used to green baize than black tarmac will make his motorsport debut in the Volkswagen Racing Cup in association with Hankook.
Predictably driving car number 147, a turbocharged 2-litre Volkswagen Jetta, Ronnie will drive in in two 20-minute rounds of what is one of the UK's most competitive amateur championships.
This won't be Ronnie's first experience of fast cars as he has previously appeared Five's, Fifth Gear, and was Top Gear's 'Star in a reasonably priced car. It will be O'Sullivan's first competitive race though. He said, "They were good things to do but this is my first real intense kind of motorsport experience,"
The world number one added that the Silverstone races are just the beginning of his track career. "I want to continue racing; it's something that I'm well into. I'm doing Silverstone and hopefully also the Brands Hatch races in September, and I definitely want to do more racing next year."
He's taking up the sport because it's a complete break from the 'day job': "Doing a ball sport as a hobby just reminds me of what I do for a living. This is completely different; I love cars and I love driving."
Ronnie started his race training at Silverstone last week ahead of his track proficiency test and Saturday's qualifying sessions. He will take part in the first of the weekend's Volkswagen Racing Cup events on Saturday afternoon and will race again on Sunday.
He got his 'big break' into motorsport thanks to RacingLine, the innovative Milton Keynes-based company which runs the Volkswagen Racing Cup and which can lead a novice through every step of the process required to get them on to the grid, including licensing, training and passing the track test.
Ronnie's track exploits have been made possible thanks to his sponsor Addison Lee, London's leading minicab company, whose directors Liam and Kieran Griffin made their track debuts in the Volkswagen Racing Cup in 2008. O'Sullivan's Jetta has been liveried in Addison Lee's colours to match Liam's Scirocco and Kieran's Golf GTI.
"Ronnie has been a great pupil so far," says RacingLine director Melissa Wright. "He has taken on board everything the instructors have told him and I think that his cool calculation, an attribute which has made him a sporting superstar, will prove very useful on the track as well. Once he has some miles under his belt his naturally competitive nature will propel him up the grid."
For once, O'Sullivan isn't expecting to win and said of his debut: "I'll be happy just not to come last. I just want to get around, get some experience and have some fun."