Martin Gould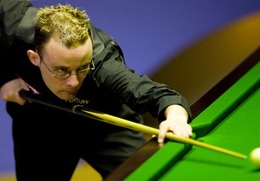 Otázky a odpovědi
www.worldsnooker.com
Londýnský 27letý Gould reaguje na zlomovou sezónu a s optimismem pohlíží dopředu.
Jak by jsi shrnul uplynulou sezónu?
Určitě jako zatím vůbec nejlepší.
Jaké byly nejlepší okamžiky?
Ten největší byla porážka Stephena Hendryho 5-3 na Welsh Open. To byl úžasný pocit, protože je to hráč, kterého jsem nejvíce obdivoval, když jsem se dostal ke snookeru. Měl jsem také rád Jimmyho White pro jeho lesk, ale Hendry měl to zaujetí pro výhru a já ve sportu vždycky obdivoval vítěze. Ne daleko za tímhle pocitem byla porážka Matthew Stevense v kvalifikaci na Crucible. Je sen každého si tady zahrát.
Užil jsi si svůj debut v Sheffieldu navzdory porážce 6-10 s Markem Allenem?
Užil a hodně se naučil. Po prvním dnu jsem zaostával 2-7 a nebyl jsem na sebe pyšný. Začalo to špatně a já se cítil stále více svázaný, jako bych byl pojídán zaživa. Nikdy předtím jsem nehrál na takovém místě jako je Crucible, je to tak sevřené. Na konci session jsem nemohl arénu opustit dostatečně rychle. Ale druhý den jsem se dostal do zápasu a byl jsem rád, že dokážu hrát i za takových okolností. Nemohu se dočkat, až se tam zase vrátím.
A přišla během sezóny nějaká zklamání?
Na začátku sezóny jsem v kvalifikaci na Shanghai prohrál 1-5 s Andy Lee, a to bylo nakopnutí, které jsem potřeboval. Byl to zlomový okamžik, protože mě mě přinutil pozvednout mé plány. Pracoval jsem s mým kaučem Delem Hillem a tvrdě trénoval. Rozhodl jsem se hrát v kvalifikaci na Masters a získal pár výher, což mi trochu zvedlo sebevědomí. Od toho okamžiku se už sezóna ubírala jen jedním směrem.
Ve snookeru už se pohybuješ pár let, ale až teď dokážeš zúročit svůj potenciál, jak to?
Byl jsem zklamaný tím, jak jsem si vedl před poslední sezónou. Prohrával jsem se spoustou hráčů, které jsem měl porazit. Měl jsem tendenci se trápit proti horším hráčům, zatímco proti lepším hráčům bych přeletěl. To vedlo k respektu ke všem stejně a nic nebylo jisté. Teď hraju pořádně a přestal jsem hrát směšné strky proti hráčům, u který jsem očekával, že je porazím. To mi dodalo mnohem více pevnosti.
Jaké máš cíle v další sezóně?
Hlavním je dostat se do top 32. Jaké se chci kvalifikovat na více turnajů, zvláště do Crucible.
Děláš něco odlišně?
Asi před týdnem jsem si pořídil nové tágo Acuerate, ale ještě jsem ho nevyzkoušel při zápase, takže jsem se ještě nerozhodl, zda si ho ponechám a nebo se vrátím ke svému starému.
A co plány na léto?
Jel jsem hrát na turnaj do Indie, poblíž Mumbai. Bylo tam pár slušných hráčů jako třeba Aditya Mehta, Manan Chandra, Yasin Merchant a Anda Zhang. Ve finále jsem porazil Mehtu 7-3. Bylo skvělé si zahrát v odlišném prostředí. Většinu času jsem sice hrál snooker, ale našel jsem si čas i na nějaké prohlídky okolí.
Je dobře známo, že na částečný úvazek pracuješ jako krupiér v kasinu, ale zabýváš se ještě něčím jiným krom snookeru?
Hraju trochu golf, hrával jsem s handikapem 12, ale teď mám spíš 24.