Marcus Campbell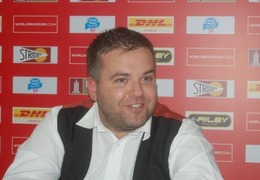 Otázky a odpovědi
www.worldsnooker.com
Světová 45tka z Dumbartonu mluví o 147kách, novém přírůstku a hraní golfu v Turnberry.
Jak by jsi shrnul uplynulou sezónu?
Kdybych vyhrál svůj první zápas kvalifikace Svěťáku, tak bych řekl, že byla úspěšná, ale prohrál jsem 9-10, stejně jako tu předchozí. To ji trochu zhatilo.
Na co vzpomínáš rád?
Na svou první soutěžní 147 na Bahrain Championship. To byl tak prima pocit, trochu jako ten, když se kvalifikujete na Sheffield a já si představil, jaké by to bylo vyhrát turnaj. Máš své výše a pády, výhry a prohry, ale tohle je tak zvláštní okamžik, že si na něj chceš na konci kariéry vzpomenout, protože není zrovna moc hráčů, kterým se podařilo nahrát maximum na turnaji. Je fajn ukázat, že to jsem schopen udělat, protože v tréninku to dokážeme všichni. Z modré na růžovou jsem zahrál strašný strk a musel jsem jít na růžovou z úhlu, ale dostal jsem se perfektně na černou a nehledě na to, jak jsem byl nervózní, jsem nemohl minout.
A zklamání?
Ta prohra v kvalifikaci Svěťáku s Danielem Wellsem. Ze stavu 5-8 jsem to dotáhl na 9-9 a v rozhodujícím framu jsem měl šanci. Vedl jsem o 35 bodů, když jsem minul nelehkou červenou s hrabičkami, vyklepala se v čelistech a skončila před protější kapsou. Kdyby spadla, tak jsem vyhrál, ale on nahrál 70 bodů a vyhrál. Ve tvém prvním zápase na tomhle turnaji je všechno napjaté. Hrál jsem dobře, ale neudělal sem dost. Prohra v posledním kvalifikačním kole mého domácího turnaje v Glasgow, Grand Prix, také bolí. Hrál jsem s Jamie Copem 4-4 a nahrál jsem 50 bodů, ale pak se mi koule strašně koply, když už to vypadalo, že nemůžu prohrát.
Jaké máš cíle v příští sezóně?
Chci vyhrát všechny své zápasy 1. kola a pak uvidíme kam mě dostanou ostatní výsledky.
Ve své kariéře jsi už porazil pár top hráčů, včetně slavné výhry 9-0 nad Stephenem Hendrym, ale máš pocit, že se ti to stále může povést?
Myslím, že jsem teď lepším hráčem, než dřív. V posledních pár letech jsem trénoval s takovými hráči jako Stephen Maguire, John Higgins, Graeme Dott a Alan McManus, a přál bych si, abych to začal dělat už před lety, protože jsem získal solidní celostolovou hru. Je těžké mě porazit, ale dalším krokem je dostávat se pravidelně do čtvrtfinále. V kvalifikacích je tolik dobrých hráčů - řekl bych že z 96 hráčů na Tour je 80 schopných porazit kohokoliv. Mark Williams vloni řekl, že nemohl uvěřit, jak je to těžké. Takže se nedostaneš do tolika turnajů a když už se to povede, tak můžeš mít problém s adaptací na hru na televizních stolech.
Co plánuješ na léto?
Před 6ti týdny se mé ženě Annie a a mně narodilo naše první dítě, chlapec Leighton, což je fantastické. Když jsem měl čas, zahrál jsem si golf, hrál jsem v Kingsbarns a Turnberry (kde se bude příští týden hrátl Open) s Alanem McManusem .
Jak se ti vedlo na Turnberry?
Dal jsem jednu na začátku devítky, ale pak jsem trochu odpadl na zadní devítce. Jsem stálým hráčem, zvláště když uvážíme, že po zlomenině nohy jsem nehrál 4 roky.
Nějaký tip na Open?
Lee Westwood a Rory McIlroy. Je čas, abychom měli britského vítěze.