Ken Doherty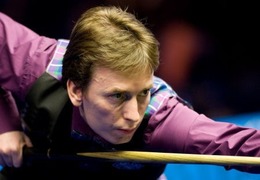 Otázky a odpovědi na Kena Dohertyho
www.worldsnooker.com
Bývalý Mistr světa se těší na vzestup formy v následující sezóně - stejně jako na to, že bude dávat hodiny snookeru slavné rockové hvězdě.
Jak by jsi shrnul uplynulou sezónu?
Bylo tam jen málo pozitiv a spousta negativ. Zjistil jsem, že kvalifikace jsou velmi těžké, ne kvůli podmínkám, které jsou tam velmi dobré, ale díky šoku, že už nehraju v hlavních halách. Jdete tam vychladlí a hrajete proti klukům, kteří jsou sebejistí a mají za sebou pár zápasů. Je to velmi těžké. Doufám, že teď už jsem si na to více zvykl a chci novou sezónu dobře odstartovat. Dobří hráči by měli být schopni adaptovat se na jakékoliv okolnosti.
Co tě zklamalo?
Pár zklamání bylo, ale prohra s Gerardem Greenem v kvalifikaci na Svěťák byla nejhorší. Bylo těžké vyrovnat se s tím, že nejsem v Crucible jako hráč. Ta hra je plná vrcholů a proher a teď už je to historie. V Prestatynu je teď trochu víc menších akcí, takže s v nich také zahraju.

Po své porážce v kvalifikaci do Crucible jsi řekl, že možná už nebudeš dlouho pokračovat, jestliže se tvá hra nezvedne. Stojíš si za tím?
Ano, jestliže prohrávám a nebaví mě to, pak bych se mohl rozhodovat, zda hrát dál. Stále mám tu hru rád a chci hrát tolik, kolik to půjde, ale neužívám si prohry. Zklame tě, když víš, čeho jsi schopný, ale nevychází ti to.

Na druhé straně to vypadá, že tvá práce lektora na BBC jde dobře.
Líbí se mi to, protože jinak bych nemohl zůstat kolem, když jsem se nekvalifikoval na turnaje. Byl bych jen doma a koukal bych na telku. Je to druhé nejlepší a chybí mi soutěžení na hlavních místech, což bolí. Ale opravdu si užívám práci pro televizi, zábavu a povídání si s jinými hráči. Je fajn cítit se součástí toho všeho.
Změníš něco na své obvyklé rutině tuhle sezónu?
Na konci uplynulé sezóny jsem trochu pracoval s Terry Griffithsem teď s ním dělám víc. Také jsem si nechal o palec zkrátit své tágo, abych si zvětšil špičku. Jinak je moje rutina stejná. Budu hrát ve všech turnajích, abych měl pár zápasů za sebou a vybudoval si trochu sebevědomí.

Co plánuješ na léto, byl jsi v Austrálii navštívit rodinu své ženy?
Ne, i když její rodiče přijeli k nám a strávili tu měsíc. Sarah zrovna zakončila své zkoušky a měla s tím hodně práce. Já jsem hrál pár dnů golf ve Španělsku a pak jsem jel na turnaj do Thajska. V září mi bude 40, možná že v té době pojedeme někam ven.

A co tvůj 20ti měsíční syn Christian?
Je skvělý. Včera jsem se vrátil z Thajska a on mě asi 20 minut objímal, byl tak překvapen, že mě vidí, protože mě asi každé ráno vyhlížel. Šíleně mi chyběl, když jsem byl pryč, ale to je součást toho, že jsem hráč a prochází tím spousta ostatních. Je vždy zrušující vrátit se domů.
Pojedeš se podívat na U2 během jejich tour?
Ano, půjdu na ně příští týden v Croke Park v Dublinu a nemůžu se dočkat. Milují snooker - Bono mi poslal hezké přání hodně štěstí, když jsem se v roce 2003 dostal do finále Mistrovství světa. A Edge zaplatil asi 8 000 liber za hodinu mého kaučování na charitativní akci. Ještě mě k tomu nevyzval, čekám na jeho telefonát, užiju si to.
A nakonec, jak vidíš šance svého přítele Padraig Harringtona na golfovém turnaji Open Championship, který se hraje tenhle týden?
O víkendu vyhrál irský PGA, což mu dodá trochu sebevědomí. V současnosti je to hráč velkých příležitostí a na velkých akcích mu to jde dobře, navíc má na golfových hřištích dobrý zápis. Je těžké ho porazit a doufám, že se mu bude dobře dařit. Má rád špatné podmínky, takže snad bude pršet a bude větrno, opravdový golfový test.