Ben Woollaston*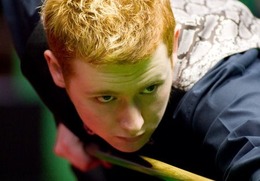 Q&A: Ben Woollaston
www.worldsnooker.com
Snooker's Flame-Haired Assassin, a promising 22-year-old from Leicester, looks forward to his third spell on the professional Tour.
You finished in the top eight in the PIOS last season to qualify for the pro circuit, you must be pleased with that achievement.
Yes, although I didn't start performing until half way through the season. I got to the quarter-finals of events 4 and 6, but going into the last event, I knew I had to get to the final to guarantee my place in the top eight.
So did you feel a lot of pressure in that last event?
I didn't start thinking about it until I got to the quarter-finals. I played well and only lost about three frames up to that point. Then in the semis I played my best match, beating Stephen Rowlings 5-0. I was so relieved and happy to know I'd done enough. I lost the final against Joe Jogia, but I wasn't too fussed because I'd done what I had to do.
Tell us about your previous spells on the pro Tour.
I qualified when I was 17 but fell off after one season, then the second time I won the European Under-19 Championship and I did well the following season, I got to the venues at the Grand Prix and the Welsh Open. I played my first match on TV at the Welsh against Stephen Hendry and I was a bit unfortunate that he was on fire that day, he made two total clearances. I lost 5-2 but I felt I played well considering it was my TV debut, and if I'd had more chances I could have won. I qualified for the Grand Prix again the following season but didn't stay on the Tour.
Do you feel you are a better player now?
Yes, my scoring is better and I've got more experience.
What are your targets for the coming season?
To stay on the Tour and then get into the top 64.
Who do you practise with?
Mostly Mark Selby, I've played with him for years.
Is he a good example to you, considering what he's done in the last few seasons?
Definitely, he has shown what you can do. I know I've got the ability, it's just a question of going out there and doing it on the match table.
Which other players do you admire?
Since I was a kid, my favourite player has been John Higgins. He's got a fantastic all round game and he's a great sportsman. I think Selby would have won the World title if he had beaten Higgins in the quarter-finals this year, but once he was out I wanted Higgins to win.
Do you have a job away from snooker?
No - I worked for a short time in Next, but now I'm concentrating on my snooker.
What are your hobbies?
I love watching sport, particularly golf. I'm not much good, my handicap's about 28. I recently went with a few friends to play the Ryder Cup course at the Belfry, which was amazing. I parred the first two holes, but then fell apart. The 10th and 18th holes over water are too tough for an amateur like me.
Are you going on holiday this summer?
No, because the qualifiers are only a few weeks away, and the first event of the Pro Challenge Series is coming up too. I'm going to play in all of those because they are good match practice in between the qualifiers.