Ben Woollaston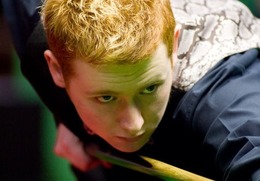 Otázky a odpovědi na Bena Woollastona
www.worldsnooker.com
Snookerový rudovlasý atentátník, slibný 22letý hráč z Leicesteru se těší na své 3. období na profesionální Tour.
V minulé sezóně jsi skončil v PIOS v top osmičce, což tě kvalifikovalo na okruh, tenhle úspěch ti musel udělat radost.
Ano, i když jsem nezačal nic moc předvádět až do poloviny sezóny. Dostal jsem se do čtvrtfinále akcí 4 a 6, ale když jsem šel do poslední akce věděl jsem, že se musím dostat do finále, abych si zajistil své místo v top osmi.
Takže jsi cítil velký tlak v té poslední akci?
Nezačal jsem na to myslet až do čtvrtfinále. Hrál jsem dobře a do té doby jsem prohrál jen asi 3 framy. V semifinále jsem uhrál svůj nejlepší zápas, když jsem porazil Stephena Rowlingse 5-0. Byl jsem tak rád a uklidnilo mě, že jsem udělal dost. Prohrál jsem ve finále s Joe Jogia, ale nedělalo mi to moc starosti, protože jsem dokázal to, co bylo potřeba.
Pověz nám o svých předchozích obdobích na Tour.
Kvalifikoval jsem se, když mi bylo 17, ale po první sezóně jsem vypadl, pak jsem vyhrál Evropský šampionát do 19ti let a kvalifikovat se podruhé a v té další sezóně jsem si vedl dobře, dostal jsem se na Grand Prix i na Welsh Open. Hrál jsem svůj první televizní zápas na Welsh proti Stephenu Hendrym a měl jsem trochu smůlu, protože on ten den hrál úžasně, 2x sklidil stůl. prohrál jsem 2-5, ale měl jsem pocit, že jsem hrál dobře, když zvážíme, že to byl můj televizní debut a kdybych dostal více šancí, mohl jsem vyhrát. V další sezóně jsem se znovu kvalifikoval do Grand Prix, ale z Tour jsem vypadl.
Máš pocit, že jsi teď lepším hráčem?
Ano, lépe skóruji a mám více zkušeností.
Jaké jsou tvé cíle pro nadcházející sezónu?
Zůstat na tour a dostat se do top 64.
S kým trénuješ?
Většinou s Markem Selby, hrál jsem s ním roky.
Je pro tebe dobrým příkladem, když uvážíme, co dokázal v posledních několika sezónách?
Určitě, ukázal, co můžete dokázat. Vím, že mám ty schopnosti, je jen otázkou je ukázat u stolu při zápase.
Která další hráče obdivuješ?
Už od doby, kdy jsem byl dítě, byl můj oblíbený hráč John Higgins. Má skvělou komplexní hru a je skvělý sportovec. Myslím, že Selby by letos vyhrál Mistrovství, kdyby Higginse ve čtvrtfinále porazil, ale jakmile vypadl, tak jsem přál vítězství Higginsovi.
Máš nějakou práci mimo snookeru?
Ne, chvíli jsem pracoval v Next, ale teď se soustředím jen na svůj snooker.
Jaké máš koníčky?
Rád sleduji sport, zvláště golf. Já nejsem moc dobrý, můj handikap je asi 28. Nedávno jsem šel s pár přáteli hrát na Ryde cup v Belfry, což byla paráda. První 2 jamky jsem uhrál par, ale pak jsem odpadl. 10. a 18. jamky přes vodu byly moc těžké pro amatéra, jako jsem já.
Pojedeš tohle léto na dovolenou?
Ne, protože kvalifikace jsou za pár týdnů a první akce Pro Challenge Series se také blíží. Budu hrát ve všech, protože jsou to dobré tréninkové zápasy mezi kvalifikacem.