Matthew Selt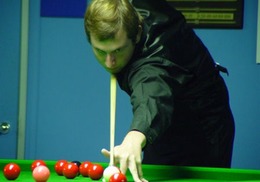 Otázky a odpovědi Matthew Selta
www.worldsnooker.com
Světová 67čka z Romfordu a hlavní tréninkový partner Ronnie O'Sullivana se dostává do horkého křesla.
Jak by jsi shrnul uplynulou sezónu?
Dost dobrá. Vyhrál jsem asi 10 zápasů a prohrál jsem jen jeden zápas 1. kola. Měl jsem docela smůlu, že jsem neskončil v top 64.
Jaké byly nejlepší okamžiky?
Vedl jsem si dobře v kvalifikaci na UK Championship, kdy jsem došel až do 3. kola a porazil jsem třeba Liu Songa 9-8, kdy už jsem zaostával 6-8. Jsem také rád, že jsem vyhrál svůj první zápas v kvalifikaci na Svěťák, měl jsem těžký los proti Robertu Stephenovi, ale zdolal jsem ho 10-3.
A zklamání?
Prohra s Rodem Lawlerem v dalším kole Svěťáku. A také prohra 4-5 s Davidem Gilbertem ve 3. kole kvalifikace na Grand Prix. Měl jsem dobrou šanci za stavu 4-4.

Příští sezónu začneš jako provizorní 61čka, máš pocit, že se od toho můžeš odrazit?
Určitě. Až dosud jsem měl ve své kariéře jen pomalý postup, ale jestli se mi i nadále bude dařit vyhrávat zápasy, tak se posunu výš. Je mi 24 let, takže je čas se posunout a nehrál bych, kdybych si nemyslel, že to nemohu dokázat.
Co by jsi dělal, kdybys nehrál snooker?
Nikdy jsem nedělal nic jiného, ale mám něco v záloze, kdyby mi snooker nešel. Pracoval bych se svou sestrou, která je právník v nemovitostech v Chelmsfordu.

Jaké jsou tvé cíle pro příští sezónu?
Minimálně se dostat do top 64, ale rád bych se dostal do top 48. Myslím, že mi svědčí delší zápasy, takže by mi pomohlo, kdyby se mi dařilo na velkých turnajích. Rád bych se dostal častěji do hlavních částí turnajů, ale to mě tolik netrápí, hlavní je vyhrávat zápasy.
Kdo jsou tví tréninkoví partneři?
Vloni jsem byl jediný hráč, který trénoval s Ronnie O'Sullivanem a také jsem hrál s Joe Perrym, Liu Songem, Neilem Robertsonem, Stuartem Binghamem a Markem Davisem.
Jaký je Ronnie při tréninku? Naučil jsi se od něj hodně?
Je jedním z mála hráčů, který je horší v tréninku, než v televizi. Potřebuje adrenalin turnaje, aby hrál dobře, jinak ztrácí motivaci. Naučil jsem se od něj hodně, ale řekl bych, že největší vliv na mě má Joe Perry, protože je vždy hrou zaujatý a i trénink bere jako práci.
Je něco, co bys rád na své hře změnil, nebo zlepšil?
Procento vítězství! Myslím, že výběr strků by mohl být lepší, takže to je něco, na čem pracuji.
Co plánuješ na léto?
Na dovolenou jedu do Thajska a asi si tam zahraju turnaj. Jinak budu chodit hrát tenis, golf a budu chodit cvičit. Mám golfový handikap 6 a hraji se Stuartem Binghamem, ale on je bandita, měl by mít 1 nebo 2. Chodíme hrát s Johnem Parrottem, se kterým je legrace. V tenise nejsem dobrý, ale je to dobré cvičení.
Jestliže máte nějakého hráče, kterého byste chtěli vyzpovídat, napiste nám své návrhy na adresu blog@worldsnooker.com