Competitions for tickets for 2009/10 season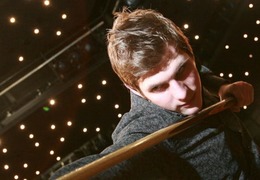 Vote For Your One To Watch
Which up-and-coming player will rise through the snooker ranks next season? Vote now for the chance to win a pair of tickets.
Worldsnooker.com readers voted Judd Trump and Liang Wenbo as their Ones To Watch in 2007 and 2008 - and those two rising stars are both now in the top 32.
But which player, currently aged under 25 and outside the top 32 of the official rankings, do you think will make an impact on the professional Tour in the coming season?
E-mail your vote to blog@worldsnooker.com putting 'One to Watch' in the subject field.
Don't forget to include your name and where you come from. Entries must be received by Wednesday, July 8. The winner of the competition, drawn at random, will be able to choose a pair of tickets for any match next season up to and including the quarter-finals of any event other than the Betfred.com World Snooker Championship.
Winner of quiz
Congratulations to Paul Crippin from Carmarthenshire in Wales, who was the only entrant to get a perfect score of 30/30. He wins a pair of tickets to a tournament next season with a backstage tour.
Well done to the following entrants who scored highly:
29/30
Tanya Volovelska, Ukraine
Jerome Revillard, France
Jack Beadle, Bognor Regis
28/30
Daniel Martinez Nieto, Spain
Tai Chengzhe, China
Tian Yang, China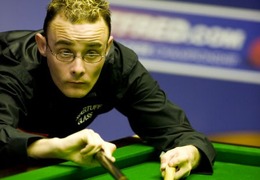 Snooker Quiz
www.worldsnooker.com
Test your knowledge of snooker's 2008/09 season with these 30 teasers...with the chance to win a pair of tickets to a tournament next season.
Email your answers to blog@worldsnooker.com putting Quiz in the subject field. Send you entry by Friday June 26. The winner will receive a pair of tickets to a tournament next season* plus a backstage tour.
1. Stephen Hendry got to the quarter-finals of the Betfred.com World Snooker Championship...how many times has he reached the last eight at the Crucible? - 18 times
2. What was Ronnie O'Sullivan's highest break of the season? - 145
3. Which player won his first three matches in the Wuzhou International Group Jiangsu Classic round robin phase, but still missed out on the semi-finals? - Li Hang
4. How many official 147s were made during the season? - 6
5. What have the following players got in common: Shokat Ali, Xiao Guodong, Chris Norbury, Craig Steadman, Thepchaiya Un Nooh, Bjorn Haneveer and Joe Jogia? - winners of events 1-8 of the PIOS 2008/09
6. At the Northern Ireland Trophy, Dave Harold set a new record for the longest gap between ranking event finals. How many years did the gap cover? - 14 years
7. Which player celebrated the arrival of Harrison? - Barry Hawkins
8. At the Welsh Open, which referee took charge of a ranking event final for the first time? - Colin Humphries
9. Steve Davis got to the quarter-finals of the Roewe Shanghai Masters and Royal London Watches Grand Prix...the first time he had reached two consecutive ranking quarter-finals in how many years? - 12 years
10. Who went from addressing the United Nations in New York to appearing at the Royal London Watches Grand Prix? - Lord Provost of Glasgow Bob Winter
11. Which player earned the nickname Haircut 100? - Judd Trump
12.During the Roewe Shanghai Masters, which player was asked during a press conference whether the stock market crash in Hong Kong had affected his game? - Marco Fu
13. Who revealed his favourite crisps as roast beef flavoured Monster Munch? - John Higgins
14. Which 'Dragon' sat in the front row of the Wembley crowd for the Masters final? - James Caan
15. How many left-handed players reached the final of a ranking event last season? - 1 - Robertson
16. What is the pictured player's part-time occupation? - croupier in a casino
17. Who said: "I thought I'd missed the boat in the mid-90s after messing with my game, and all the parties and drinking. Now I've got a second chance." - Joe Swail
18. Who said (insisting that it was meant as a compliment): "Playing Dave (Harold) is like going to the dentist and having your teeth pulled out one by one, without any anaesthetic." - Steve Davis
19. What caused Michael Holt to say: "I wish there was a video of that match so we could give it to people who were feeling down on themselves. After watching it they'd be outside doing cartwheels and saying 'at least I'm not Michael Holt'" - Losing 5-4, from 4-0 up, against Robert Milkins in Bahrain
20. Why did Abdullah Jahauni have cause to celebrate at the Bahrain Snooker Championship? - Campbell player 147 during his first prof match
21. Which Irishman was runner-up to Thepchaiya Un Nooh in the World Amateur Championship? - Colm Gilcreest
22. Roewe Shanghai Masters champion Ricky Walden received which welcome piece of snooker-related news while staying at the Bellagio hotel in Las Vegas? - he was awarded the wild card for the Masters
23. How many ranking event finals has Marco Fu appeared in? - three
24. What did Stephen Maguire and Mark King do for a record 75 minutes? - they played one frame of the second round of the World for so long
25. Which player was mentioned in a newspaper article with the headline 'Man arrested - for looking like an octopus'? - Stuart Bingham
26. Who is the highest ranked player (in the 2009/10 official list) never to have reached a ranking final?
- Mark Allen
27. Which recent tournament winner names his all-time favourite song as Billy Jean by Michael Jackson? - Mark Allen
28. Which champion boxer revealed: "I harboured serious thoughts, at the age of nine, of putting my whole life into snooker. I remember being fascinated by the game, watching the likes of Steve Davis, and thought I would do it." - Carl Froch
29. Upon being surrounded by hundreds of autograph hunters in Beijing, who said: "It's just like when me and Ian McCulloch walk down Preston high street." - Stuart Pettman
30. Why did Guo Jinlong play a break-off shot with none of the six colours on the table? - it was part of official opening ceremony at the China Open, he is Mayor of Beijing
* The winner will be able to choose tickets to any match up to and including the quarter-finals of any tournament during the 2009/10 season other than the Betfred.com World Snooker Championship. Please note that the prize does not include any travel or accomodation expenses. In the event of a tie, the winner will be chosen at random. Please include your name and where you come from in your entry.