Paul Hunter Classic 2009*
Paul Hunter Classic 2009 – Fürth, Germany – 13-16 August 2009
We left Prague on Thursday at 7 am, cause I mistakenly booked our hotel just from 13 August, but still due to motorway up to Nurnberg we were already at 10,30 in the club. Jan Kundrak played his first match (defeat 0-2 with results 21-67 and 16-72). We met there Jiri Blazek and his girlfriend Milada too. Unfortunately he wasn't successful in his first match too and failed 0-2 too after results 6-52 and 37-74. The only one victory had finally Lukas Krenek, but it didn't help him to move the group.
Thanks to this year's news – seeding of top players into basic groups – had all players opportunity to play with some profesional, opponents of our players you can see in the table. We moved from club to hall and back again and we ate pizza during one break. There was qualifiers for the World Speed Team Cup in the evening, our team unfortunately started first but luckily understood rules very quickly (why not with so super referee as Jan Verhaas is) and therefore Lukas Krenes was successful in first discipline and won over the player from team Fürth – Thomas Cesal (yes – organiser of the tournament, but don't worry, we can participate next year again :-D), it was really nervous, but last ball was potted by him for several moments earlier. It was discipline with 10 reds and black one – player had to pot all 10 reds and black in the end. In the second discipline – potting of randomly placed colours with yellow on the black spot in right order – played Jirka Blazek against Chris McBreen and he failed. For deciding discipline – potting of 5 reds in the line around the blue spot there was Jan Kundrak, but despite to massage from Verhaase, removing of the waistcoat and applause from the audience he failed to pot any one. Opponent pot one and therefore the winner was team Fürth. Next teams which competed in qualifiers were for example PHC Champions (Pinches, Holt, King), Rest of the World (Drago, McLeod, Greene), Hunter mates (Michie, Naeem, Kuldesh), Referees (Gross, Haug, Strehle), Underdogs (Bingham, Ford, Davis), Tournament directors (Kesseler, Heeger, Jung) and teams from countries across the Europe (Belgium, Poland, Dutch, Hungary, England 2 – Cope, Hawkins, Walden). Two best teams moved throug – Underdogs and Hunter mates, which competed in main stage of this event on Saturday. Referees changed after 2 matches and Verhaas by accident refereed all Dutch matches, one referee was dressed in scottish kilt and one was dressed in traditional Arabic dress with right head cover – beautiful mix. It's just big pity, that commentator speaks just in German. We asked Michie for signature and pic during break and he remembered Jan from his performance and asked him what he did do there. We spoke about pity, and press from audience and so on and I have tried to shoot into their own lines and I said that he is same as Holt, who didn't pot any ball too (he potted one during next part of discipline and moved his team through) - "no ball" - but it was pass to smash for Michie who immediately asked me, whether I'm sure and suggested by gesture, that he can check it. I think Jan won't be able to watch his match without remembering this joke. :-) Me and Kate unfortunately left arena earlier, we were a little bit tired after journey and therefore we missed celebration of Perry's birthday. We heard he received cake, but it was forgotted at all, because there appeared stripper and showed her performance with wax from candles in the end on Joe's chest. They say he didn't seem too keen for it, but might he just tried hard not to jump to her in front of the audience, who knows :-D.
Groupes finished on Friday and therefore we again traveled from the club to the hall and back. Jan has a great chance to win a frame when his opponent needed 2 snookers, but unfortunately he realised he can win and these two snookers gave to the opponent and long-waited winning frame for the Czech Republic was out. Luckily victory came in the afternoon by Lukas Krenek, which I have mentioned before. Swail had chance to hit 147, but failed at apx 120 points. There were plenty of breaks about hundred and meanwhile players signed everything possible and took pics and signed and took and still around. PlayersParty was in the evening, there wasn't Steve Davis for trickshot and therefore Jimmy Michie and Dominic Dale tried to replace him. Dominic sang too and they weren't too successful, but there was lot of fun. Mrs. Christine won frame with Shaun Murphy in raffle and it seemed from the beginning that it will be done for 5 minutes and we can go dance, but then Shauned realised, that she should play too and unfortunately didn't recognized when fun is over and long ennui starts and when they pursued pink ball around the table for apx 15 minutes, audience started to leave hall. Pink ball was potted by commentator in the end and he finished all event. Party started with live band which expelled me to the hotel, but rest remained until singer was shooted and enjoyed party up to the morning. Kate come at apx 4 am and she slept whole Saturday morning. Unfortunately some players couldn't sleep so long and therefore for example Higgins wasn't too successful and Dave Harold discussed so long with referee about situation at the table and he has so glassy-eyed stare, that finally Jürgen Kesseler persuaded him to finish the match. Higgins moved through the group, but Pinches was too enough for him and therefore Higgins again finished at this event very soon. Unlike last year he stayed there up to the Sunday. Rest favourites moved through their matches and there were appear matches from pros in the afternoon. Finally I started to collect signatures at my T-shirt (see end of Gallery), programe was nearly signed, just my pen finished and therefore some signatures are really thin.
There was main stage of the World Speed Cup in the evening, this time with 5 disciplines. First three were the same as at the qualifiers (10 reds and black one – as fast as possible to pot all reds and black in the end, colours randomly placed potted in right order and reds in line aroun the blue spot), but cause this stage was played for best of 5, two disciplines had to be added – format of 6reds to pott as much as possible in one minute and 5 black from its spot to pott as quick as possible. Final had to been decided by respotted red, which should be potted into yellow and green pocket. Ryan Day was more successful in the end, he defeated Jimmy White and gained victory for team Welsh.
Drawsheet was finished on Sunday and because whole tournament was quicker a little bit, there were some breaks in the afternoon. Wall was moved out in the afternoon and venue was opened again for semi and final matches. In semis played Murphy against McLeod and won 3-2 on the black one and White won over Swail 3-1, but in final match Murphy whitewashed White 4-0 and I went to the hotel about 10pm. I said goodbye and thanks to Thomas and went to the bed.
We packed our luggage on Monday, put them into car and went by underground to the Nurnberg, we went through beautiful centre, took some pics and went back to Fürth, visited once more bathroom in the hotel and on the road to home. It took not whole 3 hours and we were back a little bit tired, but satisfied and hope we will go there next year for the fifth time again :-).
(sry for my English, hope it's understandable – note of webmaster)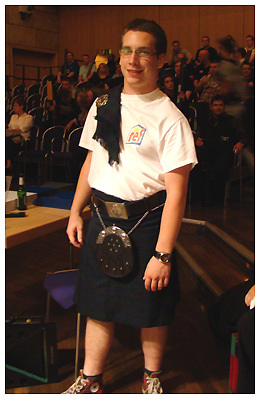 The Paul Hunter Classic is in full swing in Fürth Germany
www.global-snooker.com
One hundred and eighty players are gathered the Stadhalle, Furth, Germany to compete in the Paul Hunter Classic, in a field headed by World Champion John Higgins.
In addition to John Higgins, there are 34 Main Tour pros lined up alongside International players from around the world and the keen amateurs from right across Europe.
The main business is the Paul Hunter Classic, where the players have been competing in 45 round robin groups for the past two days.
They will be whittled down to 90 for the knock out stages, which run from Friday - Sunday.
This event is the ultimate Festival of Snooker, bringing together the world's top stars, leading amateurs and thousands of snooker crazy fans.
The Stadhalle can accommodate 1600 spectators and it is full to bursting as fans gain every vantage point they can find.
There are two arenas with two tables and another with one table, each with tiered seating and all packed to capacity. (there are 6 tables, not 5 - note of webmaster)
The atmosphere is like no other in snooker. It is more relaxed than a ranking event, with less pressure for the professionals, although they're all here to win, and maybe more than that, to put on a show for the crowds.
The fans are able to mix freely with the players, who are all being followed by fans seeking autographs and photos. Rod Lawler commented "I got asked for about forty autographs after one match, that's more than when I played at the Crucible."
Joe Swail nearly brought the house down, but missed the last red when attempting a maximum break. Shaun Murphy's 139 holds the high break at the moment but every player is out to beat that figure.
Alongside the main tournament, there are peripheral events such as the World Speed Team event. This features three man teams from around the world, competing in three speed disciplines. (there are 5 discplines - I will describe them in report - note of webmaster)
First of those is "pot as many balls as you can" from a pack of 10 reds. The teams line up on adjoining tables, hopefully not put off by one referee wearing a kilt and another sporting black gloves!
Tony Drago, not known to be slow around the table was pipped at the post by the Dutch team, who despatched the Rest of World Team, comprising Drago, Rory McLeod and Gerard Greene, much to the delight of the Orange Army.
It's fast, it's fun and it's very funny. World Snooker's referee Jan Verhaas tried, unsuccessfully to keep some sort of order amongst the mayhem, while Eurosport's commentator Rolf Kalb, kept up a duel on the microphones with Bernie Micklelit as each compered one table.
Thursday (Friday - note of webmaster) evening sees the legendary "Players Party" where the players let their hair down, mingle with the fans, enjoy the band and the barbecue and probably more than a few beers!
Format of play (H - hall, C - club)
Do you want to watch top snooker players in action? Do you want to take a pic with reigning world champion John Higgins? Do you want to enjoy top snooker for 4 days and do you want to see enjoy snooker the best of the best snooker players? I believe yes, but to travel to UK is difficult and expensive for most of us. But what about when such as Higgins, Doherty, Day, Holt, King, Selby, White, Trump, Ford, Cope, Bingham, Hawkins, McLeod, Murphy, Swail, Judge, Maguire ......... and others and others .... will appear just several hours from your home? Does it attract you? So the Paul Hunter Classic is perfect for you, it will be played in Furth close to Norimberk as usually. Top snooker players will face plenty of others from other countries, e.g. Poland, Hungary, Germany ... and I can promise you that you will have a big problem to choose one of six tables in the arena. If you attracted it, don't hesitate, tournament starts on 13 August and runs up to 16 August, there are still several tickets available (link above). Do you think there will be bodyguards around players? No, on the contrary they will wander through the venue in civvies and might you will sit next to them and support their colleagues together. So what? Do you go? Me yes, for the third time, can't help myself, have to go :-)