Damien Hirst o Ronniem a snookeru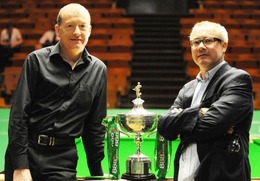 Věc umění
www.worldsnooker.com
Peter Ebdon jednou Ronnie O'Sullivana popsal jako "snookerového Mozarta" a nyní Damien Hirst srovnává Rocketa s Picassem.
Postata jeho práce opakovaně vyvolává debatu o tvůrčím umění a rozděluje názory na to, zda je tvůrčí génius stojící vedle těch největších osobností minulého století jako jsou Andy Warhol a nebo zda je showman s darem šokující taktiky a chytrého marketingu.
Jeho notoricky známé práce zahrnují The Physical Impossibility of Death in the Mind of Someone Living, 14 stopý žralok ponořený do nádrže s formaldehydem, A Thousand Years, skleněná nádoba, ve které žijí červi a mušky přežívajcíí díky hodování na hlavě mrtvé krávy a For The Love of God, lidská lebka fantasticky ozdobená 8000 diamanty. Poslední kus je údajně prodán za 50 miliónů liber.
Jedna věc, o které je Hirst sám přesvědčen, že ji lze kvalifikovat jako umění, jsou dokonalé schopnosti O'Sullivana, jehož pokusu o zisk třetího světového titulu je Hirst svědkem z první ruky.
"Pár lidí tenhle týden řeklo, že Ronnie je největší sportovec. Pro mě je jako Picasso. A nebo možná spíš jako Francis Bacon, protože to co dělá, dělá intuitivně. Cokoliv, co je tvořeno na úrovni, jakou to dělá Ronnie, je umění," rekl Hirst, který vyrostl v Leedsu, ale nyní žije na zapadlé farmě v North Devonu, pro worldsnooker.com.
"Takoví jako Lucian Freud jsou racionálnější a váženější. Jsem fascinován myšlenkou člověka jako stroje. Zajímá mě psychologická stránka - hráči přemoženi strachem z vítězství. Stroj, který by mohl hrát snooker by byl brilantní."
Hirst jednou vytvořil sérii bodových maleb, řady barevných teček, odhalující kouzlo sféry barev, které možná vysvětlují jeho zájem o snooker. Nicméně tento sport začal sledovat ještě před dobou barevných televizí.
"Sledoval jsem Pot Black na černobílé telce, pamatuji si ten divný pocit mít snooker černo-bílý," řekl bývalý vítěz ceny Turner. "Jako dítě jsem pro svého bratra vyrobil snookerový stůl ze zbytků dřeva, na kapsy jsem použil sáčky na cibuli, rozviklané tyčky na nohy, z plastu a svorek. Nechtěl byste na něm hrát, byla to hrůza."
"Pak jsem trochu hrál na malém stole a hodně jsem snooker sledoval v televizi - miloval jsem Alexe Higginse a Jimmy White. Teď mám stůl na farmě a hraju docela často."
"Jednou jsem hrál na 147 - potopil jsem červenou a černou, ale minul jsem druhou červenou," řekl Hirst, jehož nejvyšším náběhem je ve skutečnosti 58. "Nejsem tak dobrý - od té doby, co nosím brýle, moje úroveň klesá. Nechci nosit ty velké brýle jako Dennis Taylor."
"Mám pár amerických přátel, kteří hráli jen pool, ale když tu byli, seznámil jsem je se snookerem, a teď ho milují a vždycky chtějí, abych jim po zápasech psal skóre."
42letý Hirst, otec 3 chlapců, bude z tiskové lóže, jen pár stop od hlavního dění, sledovat bitvu Ali Cartera a O'Sullivana o trofej a odměnu 250 000 liber.
Ale kdokoliv, kdo se obává, že by se mohl pokusit přeříznout stůl na půl a naložit ho do formaldehydu, nemusí mít strach; je tam je proto, aby si užil představení. "Nikdy dřív jsem na turnaji nebyl, vždycky jsem si to přál a tohle je fajn místo pro začátek," dodal.