Damien Hirst about Ronnie and snooker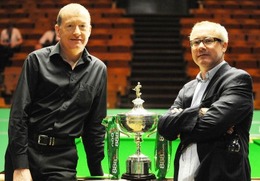 Art of the Matter
www.worldsnooker.com
Peter Ebdon once described Ronnie O'Sullivan as "the Mozart of snooker", and now Damien Hirst has drawn a comparison between the Rocket and Picasso.
His body of work has repeatedly raised debate on what constitutes art, dividing opinion as to whether he is a creative genius to stand alongside the greats of the past century such as Andy Warhol, or a showman with a gift for shock tactics and clever marketing.
His most notorious works include The Physical Impossibility of Death in the Mind of Someone Living, a 14-foot shark immersed in a tank filled with formaldehyde, A Thousand Years, a glass case in which live maggots and flies survive by feasting on the head of a dead cow, and For The Love of God, a human skull stunningly adorned with over 8,000 diamonds. The latter piece reportedly sold for £50 million.
One thing that Hirst himself is convinced does qualify as art is the exquisite skill of O'Sullivan, whose attempt to win a third world title has been witnessed by Hirst at close hand.
"A few people have been saying this week that Ronnie is the greatest sportsman. To me he's like Picasso. Or perhaps more like Francis Bacon because what he does is instinctive. Anything done to the level Ronnie has taken it is art," Hirst, who grew up in Leeds but now lives in a remote farmhouse in North Devon, told worldsnooker.com.
"Someone like Lucian Freud is more cerebral and considered. I'm fascinated by the idea of a person being like a machine. I'm interested in the psychological side - players being overcome by the fear of winning. A machine which could play snooker would be brilliant."
Hirst once created a series of spot paintings, rows of multi-coloured dots, revealing an attraction to colours spheres which may explain his interest in snooker. However, he first started watching the sport before the days of colour television.
"I used to watch Pot Black on black and white telly, I remember thinking it was weird to have snooker in black and white," said the former Turner prize winner. "When I was a kid I made a snooker table for my brother out of bits of wood, onion bags for pockets, wobbly sticks for legs and sticky back plastic and drawing pins. You couldn't play on it though, it was rubbish.
"Then I played a bit on a small table and watched a lot of it on TV - I liked Alex Higgins and Jimmy White. Now I've got a table at the farm and I play quite often.
"I was on a 147 once - I potted red and black but then missed the second red," said Hirst, whose top break is actually 58. "I'm not that good - since I've been wearing glasses my standard has slipped. I don't want to wear those giant glasses like Dennis Taylor.
"I've got a few American friends who used to only like pool, but I introduced them to snooker when they were here and now they love it, and they always want me to text them scores after matches."
Hirst, age 42 and father of three boys, will watch from the media seating, within a few feet of the main action, as Ali Carter and O'Sullivan battle for the trophy and £250,000 top prize.
But anyone who fears he might attempt to cut the table in half and cover it in formaldehyde need not worry; he's only here to enjoy the spectacle. "I've never been to a tournament before I've always wanted to, and this is some place to start," he added.