Grand Prix 2008 A
Royal London Watches Grand Prix first round draw
www.worldsnooker.com
Below is the playing schedule for the Royal London Watches Grand Prix.
The draw for the first round will take place at 12pm on Friday, September 26 in Princes Square, Glasgow. Fans are welcome to watch the draw take place, and could also have the chance to play a frame of snooker against world No 2 Stephen Maguire.
Shortly after the draw is completed, the names of the qualifiers will be added into the playing schedule below.
Saturday, 11 October - Round 1
12:00 (Noon)
John Higgins v Anthony Hamilton - 5-0
Joe Perry v Barry Hawkins - 5-3
Sunday, 12 October - Round 1
1pm
Stephen Hendry v Dave Gilbert - 5-4
Neil Robertson v Steve Davis - 4-5
NB 3pm
Marco Fu v Jimmy Michie - 5-2
Mark Allen v Michael Holt - 1-5
7pm
Graeme Dott v Judd Trump - Graeme Dott has withdrawn due to broken arm bone
Ryan Day v Ricky Walden - 5-4

Monday, 13 October - Round 1
1:30pm
Stephen Maguire v Jamie Cope - 1-5
Ding Junhui v Jamie Burnett - 5-0
7pm
Mark Selby v Andrew Higginson - 5-0
Peter Ebdon v Simon Bedford - 5-1
Tuesday, 14 October - Round 1
1:30pm
Ronnie O'Sullivan v Liang Wenbo - 5-2 :-)
Allister Carter v Dave Harold - 5-4
7pm
Shaun Murphy v Adrian Gunnell - 3-5
Mark King v John Parrott - 3-5
Wednesday, 15 October – Round 2
2pm
Match 19*: John Higgins v Stephen Hendry - 5-2
Match 23*: Ding Junhui v Michael Holt - 5-2
7pm
Match 18* Adrian Gunnell v Steve Davis - 4-5
Match 21* Judd Trump v Joe Perry - 5-3
Thursday, 16 October – Round 2
1:30pm
Match 24* Marco Fu v Ronnie O'Sullivan - 1-5 :-))
Match 17* Jamie Cope v Peter Ebdon - 5-4
7pm
Match 24* Mark Selby v Ryan Day - 4-5
Match 22* John Parrott v Ali Carter - 0-5
Friday, 17 October
1:30pm - Quarter Finals
Ronnie O'Sullivan x Judd Trump - 4-5 :-((
Steve Davis x Ali Carter - 3-5
7pm
John Higgins x Ding Junhui - 5-3
Ryan Day x Jamie Cope - 5-1
Saturday, 18 October
Semi Finals
1pm
John Higgins x Judd Trump - 6-4
7:30pm
Ryan Day x Ali Carter - 6-5
Sunday, 19 October
Final
2:30pm
John Higgins x Ryan Day - 5-2
8pm
John Higgins x Ryan Day - 9-7
Matches on Sunday 12 October are played on a roll on/roll off basis. Play will start at the allocated time each day with a 15 minute interval between matches. The 3rd and 4th match will not start before 3.00 pm. The evening session will not start before the time indicated on the format.
The draw for Round 1 will be made on completion of the qualifiers on 26 September 2008. The draw from Round 2 up to and including the Semi Final will be made on a random basis.
*Match numbers are for demonstration purposes only.
The order of play and table numbers for all matches up to the semi-finals will be determined once the draw for that round is made and published by the Tournament Director.
All matches up to and including the Quarter Finals will be best of 9 frames, Semi Finals will be best of 11 frames and the Final will be best of 17 frames (7/10).
Trump Downs Rocket
www.worldsnooker.com
Teen sensation Judd Trump continued his brilliant run at the Royal London Watches Grand Prix with a 5-4 defeat of Ronnie O'Sullivan in the quarter-finals.
Trump had never previously been beyond the last 32 and was visibly delighted with his biggest scalp to date. "It feels brilliant, we both struggled but I went out there to do a job and I did it. To beat Ronnie on TV is massive for me," said the 19-year-old.
"I fancy beating anyone on my day, if I have a good semi-final I can go on to win this tournament. I need to work on my break building as I'm making 40 or 50 and then breaking down."
A loose safety shot from 888.com World Champion O'Sullivan allowed his teenage opponent a half chance in the opening frame. He made 40 before running out of position but it wasn't long before he got a second chance and he secured the first frame with a run of 23.
Trump had the Rocket in trouble in the second but the World No 1, having taken eight attempts to escape from a couple of snookers, then made 32 before he lost position on the final blue. His attempted safety left the blue hanging over the yellow pocket, which Trump gratefully potted to establish a 2-0 lead.
O'Sullivan finally got on the board in the third frame, clearing to the pink in making a 66. He levelled in the next but it was a real tussle. The Rocket's safety play rescued him on several occasions and despite Trump making a 51, his highest of the match, both players had chances. With the brown near the bottom cushion, the 19-year-old tried a difficult thin cut but left it in the jaws and O'Sullivan dished to the pink.
After the break O'Sullivan hit his stride with a break of a 104. He followed that with a 44 in the next but Trump was given another chance in what proved to be a pivotal frame. On his second visit he cleared to the blue, leaving O'Sullivan requiring a snooker. He got it when the Bristol
potter hit the black trying to swerve round it to the pink. O'Sullivan potted the pink but then somehow failed to pot the black left-handed, leaving the match finely poised at 3-3.
They shared the next two to go a decider and the Bristol potter had several chances before securing the biggest win of his career as he moves into the semi-finals for the first time.
"I didn't play well, I didn't expect to win. I have to keep chipping away but today it ran dry," said O'Sullivan.
"I've not seem a lot of Judd. He's a good long potter, they're all dangerously good. I can't pot a ball over six foot."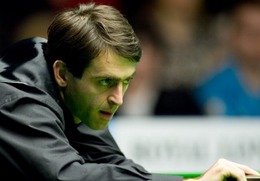 O'Sullivan Too Strong For Fu
www.worldsnooker.com
Ronnie O'Sullivan extended his superb recent sequence to 16 wins in 17 ranking event matches with a 5-1 defeat of Marco Fu at the Royal London Watches Grand Prix.
Fu beat O'Sullivan in both their meetings last season, including the final of the Royal London Watches Grand Prix but he gained some measure of revenge for those defeats with victory today.
"I'm happier with that performance, still surprised I won," said the World Champion.
"Marco is the type of player that plays well against me, he looked like he was in form so I'm surprised to have won. I played too many strange shot to get my expectations up," admitted the 32-year-old.
A fluked red, going in off the black got O'Sullivan started in the first frame, he went on to make a break of 73.
A wild shot in the next from the World No.1 allowed the defending champion his first opportunity to build a break and he seized it in style, compiling a 116 before missing the final yellow.
Both players had chances in frame three but the Chigwell cueman finally took it with a 57 to lead 2-1 and extended that with a 67 in the fourth. Another long missed red from the defending champion let O'Sullivan in to rack up another fifty plus break, this time a 76 to move 4-1 up and victory was completed in the next frame.
O'Sullivan is the form player this season having reached two finals already and he moved into the last 8 for the eleventh time in the last twelve ranking tournaments he has entered.
The bad news for everyone else is he feels he has yet to hit top form. "I'm just delighted to have got through, a win is a win for me until I hit some form. My bad level is not as bad as it was two years, so it's getting me through but when you get to this stage of the tournament you have to be playing decently," said O'Sullivan.
Fu found it difficult to get establish any rhythm, "Ronnie is a tough opponent, his safety is superb so it's difficult to score against him," he said.
Rocket Sets Up Fu Clash
www.worldsnooker.com
Ronnie O'Sullivan recovered from a slow start to score a 5-2 victory over Liang Wenbo and earn a repeat of last year's Royal London Watches Grand Prix final against Marco Fu.
Despite going 2-0 down the Rocket gradually got into his stride and took five on the bounce to book his place in round two.
"It was embarrassing, my shots were amazingly off target. I'm capable of worse than that. It lasted for two and a half frames thankfully," said O'Sullivan.
"It got a little bit better. I hate losing, I'm stubborn. It still bothers me when I play like that. The thing that keeps me going is that I can play well occasionally."
The two met in the quarter-finals at the Crucible this year with world No 1 O'Sulluvan prevailing 13-7 on his way to taking the world title.
The highlight of the opening four frames was a 56 by the Chigwell cueman in the fourth as he got back to 2-2.
After the interval, O'Sullivan who has reached both ranking finals this season, looked to be building a frame winning break but on 56 he missed a red along the rail. Liang couldn't take advantage and O'Sullivan edged in front for the first time in the match.
That soon became 4-2, then the Rocket signed off in style with a 103 to set-up a repeat of last year's final. Since his 9-6 defeat to Fu on that occasion, O'Sullivan has reached the final of five out of seven ranking events.
"I've only played two decent games in about 13 this season but people keep missing against me and I've managed to find a bit of form and mop up a few balls," concluded O'Sullivan.
Format of play
www.worldsnooker.com
The Royal London Watches Grand Prix qualifiers will take place at Pontin's, Prestatyn Sands on 22-25 September.
Below is the format:
Monday 22 September
Round 1
10am
1 - P. Davison x A. Mahitthi - 4-5
2 - J. McBain x A. Pagett - 5-4
3 - J. White x M. Georgiou - 5-1
4 - L. Roberts x A. Lee - 2-5
5 - L. Spick x J. Long - 3-5
6 - P. Lines x D. Hughes - 5-1
7 - S. Bedford x L. Chuang - 5-2
8 - S. MacKenzie x R. Stephen - 5-1
4pm
9 - R. Goggins x V. Muldoon - 2-5
10 - M. Selt x W. Cooper - 5-4
11 - D. Wells x S. Mazrocis - 4-5
12 - P. Wallace x A. Mehta - 3-5
13 - J. Jones x D. Grace - 3-5
14 - S. Saenla x Ch. McBreen - 5-3
15 - K. Johal x L. Hang - 3-5
16 - M. Couch x S. Craigie - 2-5
Tuesday 23 September
Round 2
10am
17 - M. Gould x A. Mahitthi - 2-5
18 - M. Joyce x J. McBain - 5-0
19 - D. Gray x J. White - 3-5
20 - B. Pinches x A. Lee - 4-5
21 - R. Milkins x J. Long - 3-5
22 - D. Roe x P. Lines - 2-5
23 - A. Hicks x S. Bedford - 4-5
24 - P. Davies x S. MacKenzie - 5-2
4pm
25 - S. Pettman x V. Muldoon - 1-5
26 - J. Delaney x M. Selt - 1-5
27 - A. Norman x S. Mazrocis - 5-3
28 - D. Morris x A. Mehta - 4-5
29 - R. Lawler x D. Grace - 4-5
30 - L. Song x S. Saenla - 4-5
31 - I. Preece x L. Hang - 4-5
32 - M. Davis x S. Craigie - 5-4
Wednesday 24 September
Round 3
10am
33 - J. Parrott x A. Mahitthi - 5-4
34 - R. Walden x J. Joyce - 5-1
35 - M. Holt x J. White - 5-3
36 - J. Michie x A. Lee - 5-2
37 - G. Greene x J. Long - 4-5
38 - T. Ford x P. Lines - 5-2
39 - M. Dunn x S. Bedford - 2-5
40 - A. McManus x P. Davies - 5-1
4pm
41 - A. Gunnell x V. Muldoon - 5-4
42 - D. Gilbert x M. Selt - 5-4
43 - J. Burnett x A. Norman - 5-1
44 - J. Trump x A. Mehta - 5-1
45 - L. Wenbo x D. Grace - 5-3
46 - R. McLeod x S. Saenla - 5-1
47 - M. Campbell x L. Hang - 5-3
48 - A. Higginson x M. Davis - 5-4
Thursday 25 September
Round 4
10am
49 - Ken Doherty x John Parrott - 0-5
50 - Joe Swail x Ricky Walden - 3-5
51 - Michael Judge x Michael Holt - 2-5
52 - Dominic Dale x Jimmy Michie - 4-5
53 - Dave Harold x Jin Long - 5-0
54 - Steve Davis x Tom Ford - 5-4
55 - Mark Williams x Simon Bedford - 4-5
56 - Anthony Hamilton x Alan McManus - 5-4
4pm
57 - Stuart Bingham x Adrian Gunnell - 4-5
58 - Matthew Stevens x David Gilbert - 2-5
59 - Ian Mc Culloch x Jamie Burnett - 3-5
60 - Stephen Lee x Judd Trump - 2-5
61 - Nigel Bond x Liang Wenbo - 0-5
62 - Barry Hawkins x Rory McLeod - 5-2
63 - Jamie Cope x Marcus Campbell - 5-4
64 - Fergal O'Brien x Andrew Higginson - 2-5
All matches will be the best of 9 frames
ROYAL LONDON WATCHES GRAND PRIX TO INCLUDE RANDOM DRAW
13 Aug 2008 11:06:00
www.worldsnooker.com
Snooker's Royal London Watches Grand Prix will include an exciting random draw for the first time.
From the last 16 until the semi-finals, all matches will be drawn out of a hat, in the style of a football cup draw, raising the possibility of the top seeds facing each other early in the tournament.
For the first round (last 32), the top 16 seeded players will be drawn at random against the 16 qualifiers. This draw will take place on September 26, the day after the qualifying rounds are completed.
The top 16 seeds will have already been placed into the playing schedule, giving fans plenty of time to book tickets to see their favourite players at the world ranking tournament, which runs from October 11-19 in Glasgow at the Scottish Exhibition and Conference Centre.
"It's an exciting idea to have a random draw," said defending champion Marco Fu, who beat Ronnie O'Sullivan 9-6 in last year's final. "You could end up with two of the top seeds playing each other very early in the tournament, which would raise extra excitement for the fans and TV viewers.
"Having a draw after each round will also add an extra element to the tournament and I'm sure the players will be anxiously watching the names pulled out to find out who they will play next.
"I'm really looking forward to the event. It's in Glasgow for the first time and that's a great city."
Scott Taylor, chief executive of Glasgow City Marketing Bureau, said: "Anything that differentiates the Glasgow tournament from what has gone before can only serve to heighten its appeal."
Paul Bush, Chief Operating Officer of EventScotland, said: "We are looking forward to working with World Snooker and local partners to ensure the success the Royal London Watches Snooker Grand Prix has had in Scotland over the last few years continues in Glasgow. The change of format for the Grand Prix is certainly an exciting one, and one I'm sure players, and Scottish snooker fans alike, will be looking forward to in Glasgow in October.
"The opportunity the Grand Prix provides to showcase both Glasgow and the country through international television and media coverage is fantastic. It also provides a great opportunity for our aspiring snooker stars of the future the chance to come and watch, first hand, the world's best players compete in Scotland."
The Royal London Watches Grand Prix is set to feature star players such as Fu, O'Sullivan, Shaun Murphy, Mark Selby and top Scots Stephen Hendry, John Higgins, Stephen Maguire and Graeme Dott. Details of how to buy tickets will be released shortly.