Barry Pinches
Otázky a odpovědi
www.worldsnooker.com
Norwichský výkvět u výslechu.
Jak by jsi shrnul uplynulou sezónu?
Podle žebříčku jsme měl pěkně úspěšnou sezónu. Začal jsem na 73. místě provizorního žebříčku a první zápas sezóny jsem ztratil. Na Grand Prix jsem došel až do posledních 16ti a pak jsem zvládl vyhrát většinu svých prvních zápasů. Chtěl jsem jen zůstat na tour, ale skončil jsem dost v pohodě. Jsem rád, že to převzal Barry Hearn, jsem jeho velký zastánce. Líbí se mi fakt, že bude víc turnajů, více otevřených akcí a více nahodilých losů, takže bude méně důrazu na pořadí v žebříčku. S více možnostmi budou lidi víc trénovat a víc makat, standard by měl být ještě vyšší, což je přesně to, co ta hra potřebuje.
Byly nějaké špatné okamžiky?
Prohrál jsem v 1. kole na UK, hrál jsem s Craigem Steadmanem, který hrál velmi dobře. Nehrál jsem špatně, ale v té době to byl standard.
Jaké máš cíle pro příští sezónu?
Dávám si vysoké cíle, chci zkusit hrát dobře na některých těch nových akcích a možná se dostat do top 32. Když se mi vrátí forma, opravdu dobrá forma, pak by ta 32 mohla být dosažitelná. Pár posledních týdnů jsem trénoval.
Co plánuješ na léto?
Už jsem byl s rodinou na Majorce, ale teď je čas na trénink.
Sledoval jsi World Cup?
Nebyl jsem v poslední době velký fotbalový divák, díval jsem se hodně, ale ta hra mě otravovala. Ale World Cup je něco jiného. Fandil jsem Francii, protože mají tolik dobrých hráčů, ale byli bídní. Taky jsem fandil Portugalsku, myslel jsem si, že když Ronaldo chytí top formu, může se stát cokoliv, ale už jsou taky venku!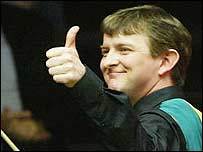 Otázky a odpovědi na Barry Pinchese
1. srpna 2008
www.worldsnooker.com
Norfolkská největší snookerová hvězda odpovídá na naše otázky.
Jak by jsi shrnul uplynulou sezónu?
Byla dobrá, vyhrál jsem docela docela dost zápasů. Určitě byla lepší, než ta předchozí, kdy jsem vyhrál jen jeden zápas. Kdybych vyhrál o jeden zápas víc, dostal bych se do top 48, ale nakonec jsem byl rád, že jsem skončil padesátý, protože v jednu chvíli jsem klesl asi na 80. místo. Byl jsem v nebezpečí vypadnutí z Tour, což by byl trochu šok.
Jaké máš největší okamžiky sezóny?
Kvalifikace na Honghe Industrial China Open a pak porážka Graeme Dotta 5-1. Byl v té době světová dvojka a obhajoval titul a hodně lidí ten zápas sledovalo, takže bylo skvělé tam hrát a porazit ho.
Byla nějaká zklamání?
Ani ne, celou sezónu jsem hrál docela dobře. Možná porážka od Nigela Bonda 2x v jednom měsíci - porazil mě v Číně poté, co jsem porazil Dotta a pak znovu v závěrečném kole kvalifikace na Mistrovství světa. Bylo by skvělé dostat se do Crucible, ale byl to ubohý zápas.
Jaké máš cíle pro další sezónu?
V provizorním žebříčku začínám na 36. místě, takže můj hlavní cíl je dostat se do top 32. Tam, odkud začínám v kvalifikacích, to však bude hodně těžké, ale měl bych se dostat aspoň do to 48.
Budeš něco dělat odlišně?
Vrtal jsem se ve své hře posledních asi 18 měsíců a proto jsem spadl v žebříčku. Předtím jsem měl asi 4 nebo 5 dobrých sezón, takže jsem to neměl dělat. Minulou sezónu jsem se vrátil ke své staré technice a to funguje dobře, takže u toho teď zůstanu.
Co plánuješ na léto?
Už jsem byl se svou rodinou na dovolené na Malorce a teď jsem se svými dvěma chlapci na víkendu v Drayton Manor v Tamworthu.
Tvým oblíbeným fotbalovým týmem je Norwich City, jak si myslíš, že si povedou v příští sezóně?
Nezískali jsme tohle léto moc hráčů a všiml jsem si v sázkových kancelářích, že je na nás kurs 5-1 na to, že půjdeme dolů. Ale pořád si myslím, že máme šanci na play-off.